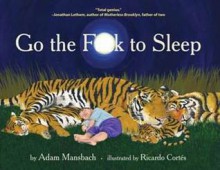 Go the Fuck to Sleep
ISBN:
9781453224748 (1453224742)
Publish date:
June 14th 2011
Edition language:
English
Bookstores:
Hooked on Books
rated it
4 months ago
I remember those days! I needed this laugh when my boys were little. : ) I listened to the audio and read the book along with it. Samuel Jackson's introduction is just as hilarious as the story. Lol
Bridget Blogs Books
rated it
3 years ago
I guess as a parent, I did understand what it feels like to just think: ugh..I wish this child would just go to sleep!! Even a few swear words along the way in my head or under my breath..But this book, it's opinions...I'm not quite so sure about. Yeah, I know, many may tell me to stop being so sens...
A Constant Reader
rated it
4 years ago
An adult book disguised as a bedtime story for children. It describes in a funny and clever way all the problems parents deal to make their children sleep and its written like a book for little kids.I listened to the audio version read by Samuel L. Jackson and couldn't stop laughing, recommended if ...
Grimlock ♥ Ultra Magnus
rated it
4 years ago
I was just made aware that LeVar Burton read this. I was used to Samuel L. Jackson's narration, so unsure how I'd feel about this. (I love Burton, but Jackson nails the narration, so I wasn't sure if this would hold up in comparison.) It does. See it here. Judge for yourself, but for me, th...
Seriously, Read a Book!
rated it
4 years ago
I actually think my stomach muscles will be sore tomorrow from laughing so hard. So, in summation, listening to Samuel L. Jackson read this is an excellent alternative to going to the gym. For all you Reading Rainbow fans out there, Levar Burton also nails his narration of this same gem of a bedti...