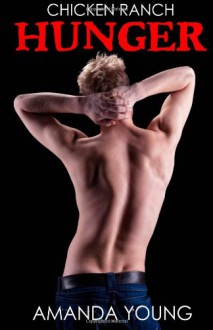 Hunger
Edition language:
English
Series:
Chicken Ranch (#1)
Bookstores:
Reader's Discretion Advised
rated it
6 years ago
First off, hey look! It's The Twink. You know, that one cover model you see everywhere? Yeah, it's him!Secondly, *cough cough. It's called "Chicken Ranch." Are we supposed to be able to take this seriously?I've always thought flashbacks were really canned because shit, who has mini movies running th...
SheReadsALot...seriously.
rated it
7 years ago
My first Amanda Young story and I'm in...like. (I always have trepidation when really liking a new-to-me author)I love rent boy fiction. The romantic angle always intrigues me. And "Hunger" book #1 of the Chicken Ranch series did not disappoint. 18 year old Declan Mayo has been kicked out of his hom...
Nic Starr
rated it
7 years ago
Overall I enjoyed this story.Declan is down on his luck and desperate times call for desperate measures. Not sure of where his next meal is coming from and without a home, he takes a job at the Chicken Ranch working as a prostitute. "Pride didn't make him any less homeless or fill the empty ache of ...
I'll read just one more chapter
rated it
7 years ago
it was fun enough to read I guess, but it wasn't anything WOW-worthy and there a few things that bothered me..
MaiMai
rated it
8 years ago
3.5 StarsMaybe I'm being too discriminating ('rent-boys' is one of my BIG things) but this book didn't quite make it for me. There was just something missing. I liked both the MCs well enough but they didn't connect, in my mind. About the only thing I could put my finger on is the inadequate 'intern...