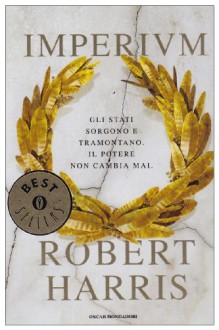 Imperium
ISBN:
9788804578314 (8804578319)
Publish date:
March 20th 2008
Edition language:
Italian
Bookstores:
runner
rated it
3 years ago
The 1969/1970 comedy Up Pompeii starred British comedian Frankie Howerd as put upon slave Lurcio always ready and willing to spread a little gossip from his adopted Roman household. Now in no way am I trying to suggest or draw a comparison between Lurcio and Tiro (personal secretary to Cicero) but u...
Themis-Athena's Garden of Books
rated it
5 years ago
A big thank you to Moonlight Reader for yet another fun, inventive BookLikes game! I had a wonderful time, while also advancing -- though with decidedly fewer new reads than I'd origianlly been planning -- my two main reading goals for this year (classic crime fiction and books written by women). ...
Carpe Librum
rated it
5 years ago
I loved listening to these two books! Therefore, I am incredibly disappointed to see that Hoopla does not have the third in audio. I will definitely have to check other sources - and get them all in paper format to read again. Great stuff! Funny thing, I only started reading these because I am wr...
nicky2910's book reviews
rated it
7 years ago
Synopsis: Tiro, Cicero's slave, recounts his master's political career, starting with his case against Verres and ending with his being elected consul... Review: I first encountered Marcus Tullius Cicero when translating his speeches against Verres and Catilina and later on his philosophical entre...
Lesemanie
rated it
7 years ago
Im ersten Teil seiner Romantrilogie über den berühmten Politiker und Redner Cicero setzt Robert Harris zu Beginn der Karriere des großen Staatsmannes ein. Der junge Cicero will sich als Anwalt einen Namen machen, um Aussicht auf ein einflussreiches Amt in der römischen Republik zu haben, doch er ko...
Share this Book
http://booklikes.com/imperium-robert-harris-renato-pera/book,1103282