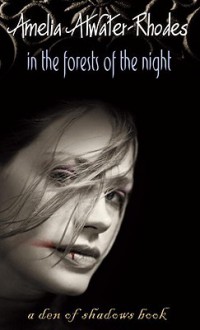 In the Forests of the Night
ISBN:
9780613285377 (0613285379)
Publish date:
May 9th 2000
Publisher:
Turtleback Books
Edition language:
English
Series:
Den of Shadows (#1)
Bookstores:
Peptastic is standing still
rated it
7 years ago
I hadn't realised the authors age (when she wrote the book) when I picked this one up. It was fine enough for a short novella but there wasn't enough of a story here. What it needed was another character to offset the predator mindset. The lead girl Rachel was well written for the type of person she...
Bookish Thoughts
rated it
9 years ago
My only complaint about this book would be that it is to short. Otherwise it was great! You really connect with the characters. Through the "flashback" scenes I never got confused or lost in the story line which is always hard to do with scenes like those.
Sticky Note Quotes
rated it
9 years ago
This book is too short and you don't get a good connection to the main charcter.
Flying Kick-a-pow!
rated it
11 years ago
i thought this book looked interesting, and then when i read on the back that it had been written by a thirteen-year-old, i became even more curious (being a teenager myself, who wants to get published). i read it pretty fast; it was good. was it amazing? not really. but it was impressive that she w...
sanctuary
rated it
15 years ago
This is another book I read in Middle School, and I remember clearly. I loved it.
Share this Book
http://booklikes.com/in-the-forests-of-the-night-amelia-atwater-rhodes/book,331099