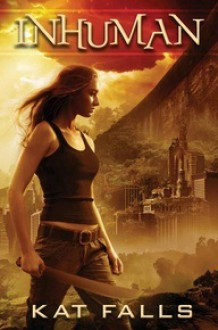 Inhuman (Fetch, #1)
Publisher:
Scholastic Inc.
Bookstores:
Book Lovers Life
rated it
10 years ago
When I heard of this I knew Id read it because it sounds so different. Lane lives behind the wall. She has heard the tales of the East. She has heard about the Feral Zones and like everyone else, to her its just a story. She knows the history of why the wall was there but it still doesn't prepare he...
Housewife Blues and Chihuahua Stories
rated it
10 years ago
Book InfoKindle Edition, 384 pagesExpected publication: September 24th 2013 by Scholastic Inc.original title InhumanASIN B00B9FX5ESedition language Englishseries Fetch #1Source:Netgalley EARCBook Buy LinksAMAZONB&NBOOK SYNOPSISIn a world ravaged by mutation, a teenage girl must travel into the forbi...
A Bookish Wondering
rated it
10 years ago
A very solid 3.5. This book turned out to be different than I expected in several ways. I don't know what I was expecting based on this excerpt from the description:America has been ravaged by a war that has left the eastern half of the country riddled with mutation. Many of the people there exhibit...
GizmosReviews
rated it
11 years ago
Expected publication: September 24th 2013 by Scholastic *Recvd via NetGalley
Share this Book
http://booklikes.com/inhuman-fetch-1-kat-falls/book,12475153