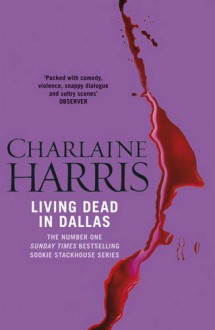 Living Dead in Dallas
1st new Gollancz trade paperback new condition In stock shipped from our UK warehouse
1st new Gollancz trade paperback new condition In stock shipped from our UK warehouse
show less
ISBN:
9780575117037 (0575117036)
Publish date:
October 1st 2011
Edition language:
English
Series:
Sookie Stackhouse (#2)
Bookstores:
MadgeWhitlin
rated it
1 year ago
I'm so glad I decided to re-read these books now that I've finished watching True Blood. I remembered they were better than the show (although there were a few things I preferred on the show like how Lafayette didn't die in the show), but there's so much that was left out or condensed and altered fo...
Wanda's Book Reviews
rated it
3 years ago
Cocktail waitress Sookie Stackhouse is having a streak of bad luck. First her co-worker is killed, and no one seems to care. Then she comes face-to-face with a beastly creature which gives her a painful and poisonous lashing. Enter the vampires, who graciously suck the poison from her veins (like th...
Sarah's Library
rated it
4 years ago
24/2 - Once again this book loses a star for its short length, other than that I totally enjoyed this book. In some parts I even enjoyed it more than the way True Blood portrayed it. For example, the orgy that Sookie and Eric go to and the way Eric was dressed (I would have really liked to have seen...
Welcome!
rated it
4 years ago
I loved this book! Or books, I should say, because it really felt as if there were two completely different books in this one binding.First, there was the story of Sookie and Bill in Dallas. I really did enjoy this portion of the story because there was more action than the other story. I was legit ...
dianeh92345
rated it
4 years ago
Not as good as the first one but it is well written. I started reading this series because I missed True Blood. The first book is matches the series very well. This one has many of the same plots but the emphasis is different. For example, Lafayette is a extremely minor character in this book compar...
Share this Book
http://booklikes.com/living-dead-in-dallas-charlaine-harris/book,751228