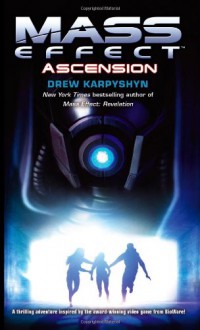 Mass Effect: Ascension
Orbit edition paperback fine
Orbit edition paperback fine
show less
ISBN:
9781841496764 (1841496766)
Publish date:
August 7th 2008
Edition language:
English
Bookstores:
mkarwin immersed in print
rated it
9 years ago
While the #1 in the series was placed somewhere before the ME1 storyline, this is stuck in the middle, right between ME1 & ME2. OK, that's not a bad point. Sure, the Ilusive Man cunning plan keeps the story slightly more engaging, some of the characters from the first book are present (after all, no...
Krycek
rated it
11 years ago
Ehhh, it's a video game tie-in. I didn't expect much. I'm a big fan of the game series so I thought that even if it wasn't great I'd still like it by virtue of it being in the Mass Effect universe. Well. I wasn't exactly Mass Effect-ed.Started off okay, got mediocre real quick. If you're a fan of th...
Maybe Tomorrow
rated it
11 years ago
Disappointing. I had hoped for more insight into TIM, but alas...
Rinn Reads
rated it
11 years ago
After finishing Mass Effect 3, I found myself wanting to immerse myself in all things Mass Effect, I suppose because the trilogy is now over, and the ending was rather disappointing. I first picked this book up in the library two years ago or so, and found it very dull. But I thought I'd try it agai...
Sesana
rated it
11 years ago
Timeline note: Ascension is set almost immediately after the events of the first Mass Effect, and before the opening scene in Mass Effect 2.Picking up the character of Kahlee Sanders from the first Mass Effect novel, Ascension is a Cerberus-heavy story that doesn't seem to have much of an effect on ...