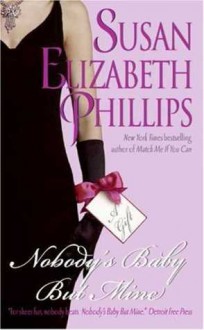 Nobody's Baby But Mine
ISBN:
9780060522544 (0060522542)
Publish date:
May 7th 2002
Edition language:
English
Series:
Chicago Stars (#3)
Bookstores:
Rachel's books
rated it
2 days ago
A friend lent me this book and I needed a book with a baby on the cover for Ripped Bodice Bingo. I'm using this shitty book for that square! And here's why I thought it was a shitty book: rant ahead. And maybe a little spoilery. And maybe a little cussing. You've been warned.So, Jane. Jane is a GENI...
The Lethal Librarian
rated it
2 years ago
I loved parts of this book and the verbal sparring that went on...what I did not like (actually HATED) is that as the cuckolded man, Calvin Bonner keeps whining, threatening, bullying,complaining and acting like a baby by using Jane's hair-brained (and successful) scheme to punish her...constantly....
Shooting Stars Reviews
rated it
3 years ago
Nobody's Baby But Mine begins when Doctor Jane Darlington meets a young woman on her birthday. Jane isn't having such a good day, and she is depressed and lonely. After, having spent the day with this woman named Jodi they come up with a crazy scheme to get Jane pregnant. But she wants to get knocke...
Malin
rated it
4 years ago
Professor Jane Darlington has a genius level IQ, is a master physicist and desperately wants a baby. However, Jane's super smarts made her feel like a freak growing up, and she doesn't want any child of hers to experience the same thing. Plus she's currently single, and not really looking for a rela...
Aly's Miscellany
rated it
5 years ago
Buddy read with Maru