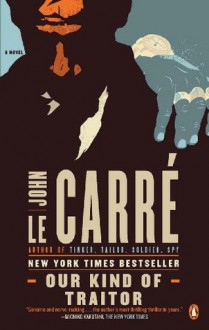 Our Kind of Traitor
Publish date:
September 1st 2010
Edition language:
English
Bookstores:
Musings/Träumereien/Devaneios
rated it
2 months ago
(original review, 2010)About a third of the way through "Our Kind of Traitor", I sat back and reflected on the elegance of the prose and the grace and ease with which the narrative moved back and forth through time, and two words came inescapably to mind: Joseph Conrad. I can't believe, after all th...
BrokenTune
rated it
6 months ago
Our kind of Traitor starts with a young couple on holiday in Antigua, who are introduced by the resident tennis pro to a man called Dima. Little do they know that a random (or is it?) acquaintance at a tennis court will change their lives. The next thing we know is that the couple is being interview...
A Scottish-Canadian Blethering On About Books
rated it
6 years ago
Loved this one. My only other Le Carré to date is "Spy Who Came Into the Cold", which it took me a while to settle into, until I realized that no-one (including the narrative voice) was to be trusted. In this one, we are given a pair of outsiders, not unsophisticated but definitely naive, as our way...
carey
rated it
8 years ago
I love le Carré, the writing is excellent, well-drawn characters whom you care about, but I am starting to dread reading his books, as all his recent books seem to end up with the 'baddies' (in this case, corrupt politicians, bankers etc..) getting the upper hand. Not being a conspiracy theorist my...
Thewanderingjew
rated it
8 years ago
Our Kind Of Traitor, John Le CarreI read an advanced uncorrected proof. The book is written with some lighthearted humor and a great deal of suspense. Until the final pages, I was really not sure of the outcome or even the actual nature of the plot! However, I could not stop reading it, so psycholog...
Share this Book
http://booklikes.com/our-kind-of-traitor-john-le-carre/book,6093443