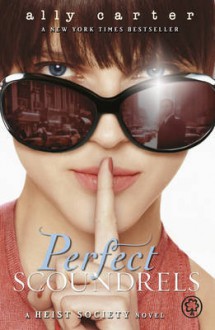 Perfect Scoundrels
Publish date:
February 7th 2013
Edition language:
English
Series:
Heist Society (#3)
Bookstores:
Defying Gravity with Books
rated it
3 years ago
This book is my favorite in the series. I know Ally Carter plans to eventually write a fourth book and I can't wait! I love how the family came together for a good cause. I also liked the twists and turns the book had. This book definitely kept me on my toes.
By Singing Light
rated it
4 years ago
I've been meaning to read this one since it first came out and actually had it checked out at one point. I did enjoy it, but found myself a little less invested in Kat's adventures. Is it the book? Too much distance from the last story? Not sure.
Life Is Classified
rated it
5 years ago
Now I'm reviewing my favorite book in the Heist society series so far: Perfect Scoundrels. THIS BOOK IS SO AMAZING!!! In this book, Hale's grandmother dies unexpectedly and leave Hale's family's company to him, even though he's still sixteen. Then Kat gets a tip that tells her that Hale's grandmot...
Romance Reader (and Writer)
rated it
5 years ago
These kids and just the whole "family" Kat has are amazing. Geniuses! Not my favourite book in the series, since they didn't steal a painting or a jewel or anything as valuable or famous, but just the ability to come out on top and pull off the impossible (as usual!) has given it that flair (and m...
The Little Munchkin Reader
rated it
5 years ago
3.5/5
Share this Book
http://booklikes.com/perfect-scoundrels-ally-carter/book,8233182