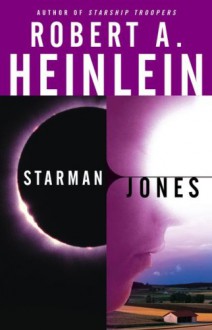 Starman Jones
ISBN:
9781416505501 (1416505504)
Publish date:
April 19th 2005
Edition language:
English
Bookstores:
Musings/Träumereien/Devaneios
rated it
4 years ago
(Original Review, 1980-07-24)Random rumblings on our inability to predict the future.Pop-up display screens and visual aiming (guiding a missile by looking at the target) for fighter pilots is discussed in the recent fiction paperback "FoxFire.'' The technology for visual aiming is actually quite ol...
sologdin
rated it
11 years ago
Nutshell: bucolic twerp with plot-significant eidetic memory defrauds his way aboard spaceship, flirts with rich girl, has a big adventure, &c.YA and pulpy, but moves quickly, with characteristic heinleinian asides regarding law, politics, and science. Some nifty geeking out on the science of FTL t...
PG's Books
rated it
11 years ago
This is a nice small novel about a young boy running away into galactic adventure land. Some say this book is now feeling outdated but I think it holds up quite well still. I definitely liked it. It wasn't wow-what-a-great-book or anything like that but I liked it. It is a simple, straightforward, b...
Amadan na Briona
rated it
12 years ago
I read a lot of Heinlein's juveniles when I was younger, but I missed this one and it was on sale from Audible, so it was nice to enjoy one of his earlier works, before he started getting old and wanky. Everything from Friday on was pretty much Heinlein getting his freak on, but his earlier novels a...
Osho
rated it
113 years ago
Books read in the past:I think of this as the exemplar of Heinlein's writing in this period. The hero is a sympathetic lad with special talents, the mentor is old but not a lecherous coot, the plot complications involve interpersonal tension as well as external problems, the problems are both techni...