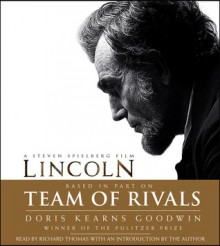 Team of Rivals: The Political Genius of Abraham Lincoln
ISBN:
9781442354746 (1442354747)
Publish date:
October 16th 2012
Publisher:
Simon & Schuster Audio
Edition language:
English
Bookstores:
Unimportant Musings
rated it
4 years ago
Abraham Lincoln had always seemed to me, an outsider flattening my nose against the fishbowl of American history, generally a big deal. In his story's oversimplified version, he kept his country together, freed slaves, and was all but deified upon his assassination. The man was, even if everyone els...
Book Talk 21st Century
rated it
5 years ago
It has been said that more books have been written about Abraham Lincoln than any other historical figure except Jesus Christ. Given that Jesus was born 1800 years before Lincoln, that's saying a lot about who Lincoln is. The question then becomes, do we really need another Lincoln book? We need thi...
Seriously, Read a Book!
rated it
5 years ago
While I allow my brain to digest this incredible book before reviewing, let me just point out my recent discovery that Mary Todd Lincoln looked strikingly similar to the lady from Poltergeist.
List Lover
rated it
6 years ago
Great. In the beginning of the book, Goodwin demonstrates, through letters between men, just how screwed up we have become about friendships. It was common for hetero men to express love and longing towards each other....one reason, I think, was because they weren't scared of being accused of being ...
Bettie's Books
rated it
6 years ago
Let's see what all the raves are about ;OPBrilliant man. Great film. Fantastic acting.
Share this Book
http://booklikes.com/team-of-rivals-the-political-genius-of-abraham-lincoln-doris-kearns-goodwin/book,36259