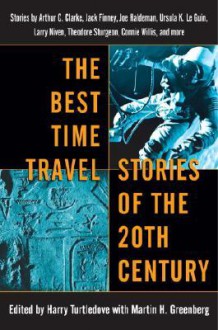 The Best Time Travel Stories of the 20th Century
Publish date:
December 28th 2004
Edition language:
English
Bookstores:
markk
rated it
2 years ago
For over a century time travel has remained one of the most enduring categories of science fiction. Authors such as Mark Twain and H. G. Wells established many of the ideas that were subsequently encapsulated in numerous stories that have entertained millions of readers. This anthology bring togethe...
Deb's books
rated it
8 years ago
All of these stories are reprints and I had already read some of them. The introduction is good and the books are in order by copyright date. The copyright dates are listed under permissions at the back of the book. Some of the older stories are dated and some suffered a bit by being the influence o...
thomcat
rated it
8 years ago
Some classics in here, some new to me.
Books with a Beu
rated it
12 years ago
http://JamieBeu.booklikes.com
Books with a Beu
5.0
The Best Time Travel Stories of the 20th Century: Stories by Arthur C. Clarke, Jack Finney, Joe Haldeman, Ursula K. Le Guin,
When I read a collection of short stories, I generally start not at the beginning, but with the shortest stories first. If those first few "really short" stories whet my appetite, I'll move up to the longer stories.This collection grabbed me from story #1. Just about every one of them held my atte...
Share this Book
http://booklikes.com/the-best-time-travel-stories-of-the-20th-century-harry-turtledove-martin-h-/book,711945