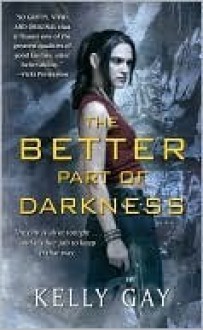 The Better Part of Darkness
Edition language:
English
Series:
Charlie Madigan (#1)
Bookstores:
want a real life adventure? come to Australia we have spiders bigger than your hand.
rated it
5 years ago
This is the 2nd time I've read The Better Part of Darkness and I have to say I have some serious issues with this book. The first being that Charlie's head is firmly wedge up her own ass. The woman complains about everything. Apparently everyone should be kind and friendly and just to Charlie becaus...
Steamy reads with a dollop of magic, mystery and hot... hot men
rated it
7 years ago
Am so tired of these types of books. Described as gritty - it would have been more appropriate to term this novel as grim. Likewise the h - supposedly edgy, driven, capable etc - but in reality I found her annoying, stubborn, unlikeable, and nowhere near my definition of kick ass - sure she gets h...
The Bookaholic Cat
rated it
8 years ago
4 ½ StarsI'm so glad I finally read this book. Now I need to find the time to read the next ones.
Sassapphras
rated it
9 years ago
I liked the way this ended, but I tell you what, I hated Charlie for more than half the book. She's probably the most depressing heroine I've ever had the misfortune to read. I hated her to the point where I even hated her kid. Which isn't totally surprising (to me) because I generally don't like...
SnowNSew
rated it
9 years ago
I am having a lot of trouble with this review. Might be because it seems to be more of the same. But, when a formula works, why mess with it? Maybe because we as readers like something a little different. Or, at least we *think* we do – then we go out and purchase more of the same. I gotta say, this...
Share this Book
http://booklikes.com/the-better-part-of-darkness-kelly-gay/book,5329808