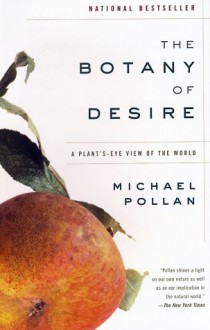 The Botany Of Desire: A Plant's Eye View Of The World
ISBN:
9780747557890 (0747557896)
Edition language:
English
Bookstores:
FatherCraneMadeMeDoIt
rated it
1 year ago
For more reviews, check out my blog: Craft-CycleA fascinating read with a very unique perspective. I really liked that Pollan looked at evolution from the plant's perspective. It was so simple, yet so novel and interesting. I especially enjoyed the chapters on apples and potatoes.There is a lot of i...
Bettie's Books
rated it
4 years ago
bookshelves: autumn-2015, gardening, nonfic-nov-2015, sciences, tbr-busting-2015, nature, teh-demon-booze, philosophy, religion, us-ohio, recreational-drugs, published-2001, history, north-americas, nonfiction Read from April 03, 2013 to November 19, 2015 Description: Every schoolchild learns a...
nouveau
rated it
6 years ago
Pollan... heheh, surely that can't be a coincidence... anyway Pollan covers four plants: apples, tulips, cannabis, and potatoes. Apples covers Johnny Appleseed and Kazakhstan, tulips the Dutch tulip bubble; cannabis; potatoesend result:apples 5/5tulips 4/5cannabis 5/5potatoes 3/5average: 4。25nice, i...
katiewilkins186
rated it
7 years ago
The author's starting premise in The Botany of Desire has two fascinating parts. First, that plants benefit greatly from domestication, so our relationship with them could just as easily be viewed as them domesticating us. And second, that domesticated plants have evolved to meet some basic human de...
Literary Sara
rated it
7 years ago
Writing is not Michael Pollan's strong suit. It took me several weeks of subway reading to slog through this short collection of essays.But the thesis is interesting--Pollan recasts the relationship between plants and humans as a symbiotic one, in which people do not so much domesticate plants as fa...
Share this Book
http://booklikes.com/the-botany-of-desire-a-plant-s-eye-view-of-the-world-michael-pollan/book,188315