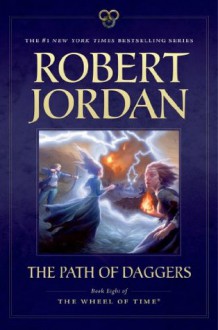 The Path of Daggers (Wheel of Time)
ISBN:
9780765336477 (0765336472)
Publish date:
November 12th 2013
Edition language:
English
Series:
Wheel of Time (#8)
Bookstores:
A Man With An Agenda
rated it
9 months ago
This is my least favorite so far. It has some fantastic scenes in it, but for the most part it has a lot of frustrating tangling of plot-threads and very little progress.The new cover art was changed here, too, but it was an improvement this time. The oddly posed scene of Aviendha, Elayne and Nynaev...
Ecletic Reader
rated it
4 years ago
I'm conflicted about this book. I am truly enjoying the series and this is a solid entry that does provide significant character development, especially for Rand and Egwene. I've certainly started to like Egwene much more than I have leading up to this point. That being said, there is almost know ac...
Wandering through fiction
rated it
4 years ago
All got rather rushed at the end. Missed seeing Mat in this one. Not sure how it's all going to untangle.
rameau's ramblings
rated it
5 years ago
I was not amused by how this book ended, with a rape scene. The description of Faile's capture is as close to a graphic rape scene as Jordan who cannot make his characters to say the word "sex" is capable of writing. Or was, by this point. I'm not done with the series yet, dammit. She fights a man...
A World of Reviews
rated it
6 years ago
This has been on my to-read list for a long time, and I've mainly been putting it off because of its length (although it's actually one of the shorter books in the series). I read the seventh book in April, so my memory of those events wasn't great, but I soon really got into the story told in this ...
Share this Book
http://booklikes.com/the-path-of-daggers-wheel-of-time-robert-jordan/book,865193