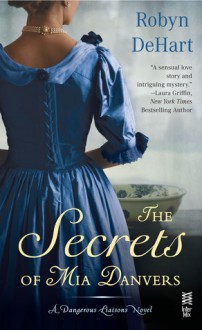 The Secrets of Mia Danvers (Dangerous Liaisons, #1)
ISBN:
9781101623367 (1101623365)
Publish date:
June 18th 2013
Edition language:
English
Bookstores:
Lizardo94
rated it
9 years ago
Review copy courtesy of the publisher via NetGalleyI. Loved. This. Book. I think that this is the most unique and interesting historical romance that I've ever read. Ever!First off, lets discuss characters. Mia Danvers, our heroine. I loved her. She's blind due to a childhood accident. That, in itse...
I Heart Romance
rated it
9 years ago
I love books and movies that explore the gory and the sinister underbelly of England. Jack the Ripper is on the rise again and has been killing again – this time, serving girls or working girls instead of prostitutes. He has also moved his area and has left Whitechapel. The story starts as blind ...
Cocktails and Books
rated it
9 years ago
Mia, A young woman, who became blind after a riding accident. That was just the beginning, of life's set back soon after her father dies. Her Mother not wanting to take a non prefect daughter into society. Leaves her at a cottage, on a Duke's estate.Alex, The eighth Duke of Carrington, is not quite ...
Khanh the Killjoy
rated it
9 years ago
Jane Eyre meets Pride and Prejudice meets Anne Perry.This book has everything I ever wanted in an HR. Wonderfully complex main characters, a supportive, likeable supporting cast, all with varying degrees of depths. The bad guys, the rakes...there is no black and white here. Things happen for a reaso...