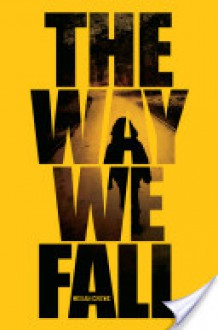 The Way We Fall
Publish date:
January 2012
Publisher:
Disney Hyperion
Edition language:
English
Series:
Fallen World (#1)
Bookstores:
YA Fanatic
rated it
2 years ago
Overall, I really enjoyed this apocalyptic story. An epidemic taking over an island is pretty terrifying but something I can see happening, easily. The biggest drawback to this book is the way it is written. In letters to a boy we don't see the entire book. Because its written in letter format I fee...
The reader lines
rated it
4 years ago
Cuando comencé a leer este libro fue específicamente porque me uní al Street Team de la serie hace algún tiempo, pero aun no había leído ninguno de los libros. Así que tenía que hacerlo.Para ser honesta este libro no es lo que esperaba, en una buena manera. Aislados nos lleva a la vida de Kaelyn que...
Bambbles Rambles
rated it
4 years ago
Really book? As soon as I had fished this I was thinking about how I was going to go online and profess my love for finding an excellent standalone young adult book. Then once I get here, I see "Fallen World #1". What a disappointment.Moving beyond the obvious distaste I have for everything being a ...
SweetKleis Reads and Writes!
rated it
5 years ago
2 starsHmmmm, I don't know what I was expecting to read but I do know this was not it, if that makes any sense.For whatever reason I could not make myself remember that the MC was 16. She was just so...invisible. I would've looked right over her in any room, even if she were the only one standing it...
No Bent Spines
rated it
5 years ago
http://www.nobentspines.blogspot.com/The Way We Fall reminded me of the app PLAGUE. The basics of this insanely addicting app is to mutate your virus/ bacteria/ biological weapon so drastically that humans can't build a cure fast enough. So the goal is to kill the entire human population off. Fun ri...
Share this Book
http://booklikes.com/the-way-we-fall-megan-crewe/book,6393916