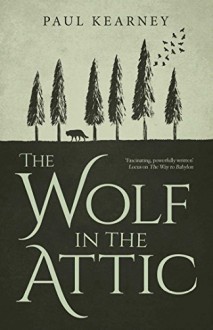 The Wolf in the Attic
ISBN:
9781781083628 (1781083622)
Edition language:
English
Bookstores:
Burgoo
rated it
5 years ago
Beautifully written, but I just couldn't get into it. YMMV.
Book Haunt
rated it
6 years ago
It's 1929 and eleven year old Anna Francis lives with her father, George in a damp, lonely old house in Oxford, England. Life hasn't been great for them since they fled Greece. Her mother and brother were both killed at the hands of the Turks who destroyed their city. Her father is no longer the ...
drallapaul
rated it
6 years ago
This novel is a bit of a strange mixture and it is a little disjointed in my opinion. It deals with an 11-year-old Greek girl, living in exile with her father in Oxford at the end of the 1920s. As she tries to make sense of the world in which she now lives, her life is transformed by various factors...
Share this Book
http://booklikes.com/the-wolf-in-the-attic-paul-kearney/book,13637678