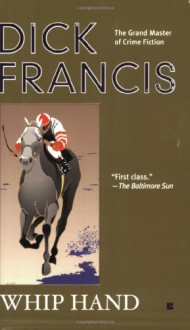 Whip Hand
ISBN:
9780060113841 (0060113847)
Publish date:
January 1st 1979
Edition language:
English
Series:
Sid Halley Mystery (#2)
Bookstores:
Peregrinations
rated it
4 years ago
One of his more viscerally violent books and hence not one of my favorites but still very well written.
Bettie's Books
rated it
5 years ago
bookshelves: radio-4x, sport, summer-2011, mystery-thriller, published-1979 Read from June 03 to 10, 2011 *
Cathy67
rated it
7 years ago
My first Dick Francis read and it was great! Not all that fond of books set abroad but didn't know that when I began reading. Can say though that it didn't bother or annoy me at all that it was set in England. Actually learned much about England by reading the book. Story was unique and the writ...
All the Time in the World
rated it
21 years ago
My all-time favorite Dick Francis book. Like most of Francis' protagonists, Sid Halley is Everyman, with a healthy dose of self-sufficiency and a quick mind that usually keeps him one step ahead of his enemies. In the first book featuring Halley, Odds Against, Sid has suffered a major injury that ...
Kaethe
rated it
25 years ago
1 Jan 19851 Jan 199814 Dec 2000Another reread. Not one of my favorites. This one was written in '65 back when Dick was trying to be so hard boiled. I like the character of Sid and his father-in-law Charles, but everything else is so grim and no so psychological. It's okay to while away time but...
Share this Book
http://booklikes.com/whip-hand-dick-francis/book,123901