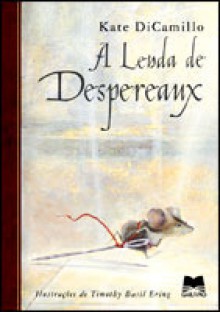 A Lenda de Despereaux
Edition language:
Portuguese
Bookstores:
Ready Readers
rated it
4 years ago
Join Despereaux on adventure to save Princess Pea from mangy rats. This book is divided into four section and told from multiple different characters point of view. The leveling system is The Lexile, reading level 670L. Students can practice their writing skills by writing a letter of encouragement ...
Books for Future K-6 Students
rated it
5 years ago
The Tale of Despereaux is a level U in the Fountas and Pinnell reading level scale.The Tale of Despereaux is about a mouse named Despereaux Tilling. He sets out on an adventure to save a HUMAN princess named Pea from the rats. The book is split into four separate "books", and each book takes place i...
Maggie Wiygul ED511
rated it
5 years ago
Lexile Level: 670L The Tale of Despereaux by Kate DiCamillo is a wonderful chapter book about a mouse named Desperaux who lives in a castle. Desperaux has several traits that make him different from the other mice in the castle. He loves to read and has a curious nature that leads to conflicts wit...
An Un-Calibrated Centrifuge
rated it
8 years ago
I'm coming to realize I don't like Kate DiCamillo, and I don't think either of her winning books are Newbery worthy. The Tale of Despereaux is more derivative than innovative and its reliance on stereotypes/cliches is annoying (rats/dark are bad and mice/light are good was the most prevalent). The...
YA Fanatic
rated it
9 years ago
This is the first book starring an animal as the main character that I've read in a long time. I enjoyed it but wasn't amazed by it. Told in four parts we hear of Despereaux Tilling's somewhat sad life as a mouse. He doesn't fit in, his ears are too big, his family doesn't love him, all he is is a...