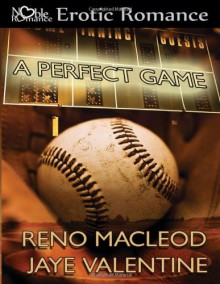 A Perfect Game
ISBN:
9781605920672 (1605920673)
Publish date:
November 30th 2009
Publisher:
Noble Romance Publishing
Edition language:
English
Bookstores:
R *A Reader Obsessed*
rated it
6 years ago
At first I wasn't so sure about this because I'm not big into bdsm especially if it's contemporary. However this was free so I figured, why not? If I choose to ignore the absolute eye-roll inducing insta-love, I think this was an overall pretty decent storyYou've got Kit who's a star baseball play...
SheReadsALot...seriously.
rated it
8 years ago
That's right...I'm grunting! "A Perfect Game" has hit so many pluses in my book, that I can't help but grunt like Tim "The Tool Man" Taylor. This book has been sitting on my TBR mountain for months, MONTHS! and I am so upset with myself.Have no fear, I think back on my favorite scene (I'll describe ...
Elci - reading is so her thing.
rated it
8 years ago
Re read. Still just as great.
No Glitter Blown
rated it
9 years ago
3.5 starsTenderness, caring and some sexy play between this student athlete and college professor. Big heart, but a little rushed in places to condense time. A romantic read.
MaiMai
rated it
9 years ago
I really did enjoy this story. While I liked the change-up in the D/s dynamic (younger D/older s), I did have difficulty, every once in a while, believing that Kit, at 20, could already be such an experienced Dom. Liam felt quite real to me.
Share this Book
http://booklikes.com/a-perfect-game-reno-macleod-jaye-valentine/book,5812613