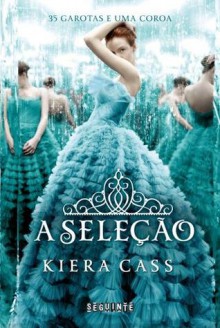 A Seleção
ISBN:
9788565765015 (8565765016)
Publish date:
September 19th 2012
Edition language:
Portuguese
Series:
The Selection (#1)
Bookstores:
NoortheBookLover
rated it
3 months ago
This is my favorite book ever! Also, the entire series is the best! For example, the entire series has nice short quick reads. Additionally, two of my friends have read this series and they have loved it just like I did! In conclusion, this is my favorite book/series and you all should read it e...
Juuli's Bookshelf
rated it
6 months ago
I never expected to like it, but I did. I actually enjoyed it until about 80% mark, when our main character turned into a total ... well, I don't even have a word for it. I know she was only sixteen and had some tough decisions to make, but this was just ridiculous. What was she? A human weathervane...
https://verrueckt-nach-buechern.blogspot.de/
rated it
8 months ago
Illeás Thronfolger Maxon sucht eine Prinzessin welche an seiner Seite bald über Illeá herrschen wird. Diese soll aus dem Volk stammen, damit die unteren Kasten abgelenkt von ihrem Leben abgelenkt werden, gibt es eine Castingshow. Der Prinz hat aus 35 "zufällig" gewählten Mädchen die Chance seine zuk...
The Master's Nook
rated it
3 years ago
Every time I walk into our local bookstore, I will always notice these gorgeous book covers from The Selection Series by Kiera Cass on the young adult section. They are so catchy and attractive, they are almost impossible to miss. And every time I look at them, there is something that pulls me to t...
Muccamukk
rated it
3 years ago
Hard one to read. One one hand, was it good? No. The world building is meant for people who thought the Hunger Games was too deeply considered and realistic, the obvious love triangle is obvious and all plot twists were predictable from page one.However, I've gotta say that I needed to buzz through ...