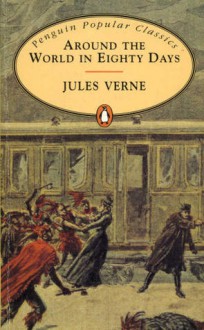 Around the World in Eighty Days
ISBN:
9780140623680 (014062368X)
Edition language:
English
Bookstores:
Linda78
rated it
5 months ago
This started off a little slow, with all the boasting and detailing of bets of whether Phileas Fogg actually can make a trip around the world in eighty days. But once he got going and he got framed for stealing money that put Det. Fix on his trail, it got more interesting. Fogg also picks up a Frenc...
Elentarri's Book Blog
rated it
9 months ago
TITLE: Around the World in Eighty Days AUTHOR: Jules Verne TRANSLATOR: William Butcher DATE PUBLISHED: 2008 (reissue) PUBLICATION: Oxford World's Classics FORMAT: Paperback ISBN-13: 9780199552511 ________________________________ DESCRIPTION: "With the words 'Here I am, gentlemen...
Lillelara
rated it
2 years ago
What I learned from this book: travelling by train is far more dangerous and troubling than travelling by boat. What happens to Phileas Fogg and his group during their train travels is insane. About halfway through the book I switched to the audiobook, narrated by Jim Dale, and this choice has bee...
BrokenTune
rated it
2 years ago
"A true Englishman doesn't joke when he is talking about so serious a thing as a wager," replied Phileas Fogg, solemnly. With this we're off to the one of the best adventure stories... And no matter how often I read this book, I still get excited about whether they will make it back to the Reform C...
The better to see you, my dear
rated it
2 years ago
That was awesome! I love when these classics turn out to be addictive page-turners. Even though I knew Fogg had to triumph, I admit I had several moments of true anxiety, so double points. Into the podium of Verne's favorites it goes. Now, what do I do with this furious raging of my wanderlust?