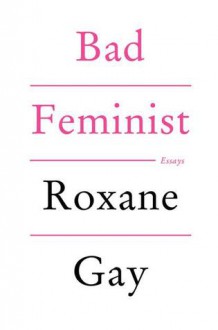 Bad Feminist: Essays
ISBN:
9780062282712 (0062282719)
Publish date:
August 5th 2014
Publisher:
Harper Perennial
Edition language:
English
Bookstores:
LAUREN B. DAVIS
rated it
2 months ago
Roxane gay is smart and astute and brave and candid and funny. The writing is accessible, clear, and thoughtful. These essays, which cover a range of topics from racism to what makes an (imperfect) feminist to critiques of books like LEAN IN and movies such as DJANGO, are insightful and thought-pr...
Fangirl Moments and My Two Cents
rated it
3 months ago
This book is the author's opinions on lots of things. It covers racism, sexism and much more. She is very opinionated. A lot of the discussion is about books and movies. If some of the ones mentioned are your faves, some parts might be difficult to read. I don't agree with her on everything, but...
Silvie's bookshelf
rated it
10 months ago
while some essays were cheesy (twilight and 50 shades) the ones on race and feminism were spot on and made me think. I am also glad that I'm not the only person against Sanberg's Lean in movement.
Reading For The Heck Of It
rated it
1 year ago
I've recently delved into the world of feminist literature and so it was bound to happen that I would read Roxane Gay's Bad Feminist. Ya'll, this book will slap you in your face with its brutal honesty. It's a collection of essays about everything from what it's like to be a black female professor (...
It's a Hardback Life
rated it
2 years ago
It used to be that you could only really know a writer through their work, and perhaps the odd interview. Now we can watch our literary idols stick their feet in their mouths in real time (coughAnneRicecough), thanks to Twitter, Tumblr, Facebook, et al. Social media has done more than connect us to ...