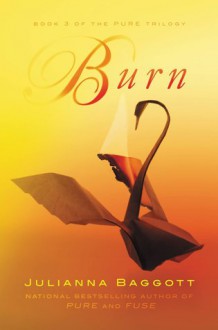 Burn
Publish date:
February 4th 2014
Publisher:
Grand Central Publishing
Edition language:
English
Bookstores:
NiWa
rated it
1 year ago
Vor neun Jahren haben Bomben die Erde zerstört. Geblieben ist eine verseuchte Welt, und die wenigen Überlebenden sind furchtbarst entstellt. Allerdings gibt es eine elitäre Gruppe, die sich noch vor der nuklearen Katastrophe in den geschützten Raum des Kapitols zurückgezogen hat. In diesem Abschluss...
YA Fantasy - K.A. Wiggins
rated it
3 years ago
Julianna Baggott's writing - and particularly her story worlds - are astonishing. Tragic, painful, unexpected and beautiful. A must-read, although most certainly not a feel-good story. Extremely challenging, on levels ranging from the socio-political and psychological to the spiritual...
The WordSmithe
rated it
5 years ago
This book tugged at my heartstrings! I couldn't put it down. I finished it in ONE day! Baggott did leave a door open at the end of this one. I had some minor questions at the end of the book, but, felt it was well done. Who knows maybe she will follow up with a short story one day? I highly recommen...
Liz Loves Books.Com.
rated it
6 years ago
Thank you to the publisher for the review copy via NetGalley. Please note: This should read "Pure Trilogy" not "Prime Trilogy" Amazon data is incorrect! Inside the Dome, Patridge has taken his father's place as leader of the Pures. His struggle has led him here, intent upon bringing down the D...
Musings of a Bibliophile
rated it
6 years ago
21/2/14Ok. Here's part of my more coherent "official" review (full review here)Though Burn doesn't quite meet the sheer perfection of Fuse, Baggot's words are once again placed with meticulous care; her world is still darkly gorgeous, if a little more haunting than before. Her characters are more fl...
Share this Book
http://booklikes.com/burn-julianna-baggott/book,6775581