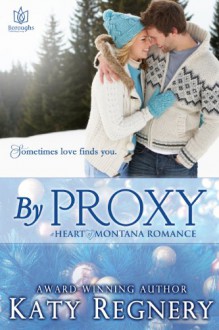 By Proxy
ISBN:
9781938876714 (1938876717)
Publish date:
September 24th 2013
Publisher:
Boroughs Publishing Group
Edition language:
English
Series:
Heart of Montana (#1)
Bookstores:
nancydl
rated it
8 months ago
I really enjoyed this unusual romance. I received this for free and I voluntarily chose to review this. I've given it a 5* rating. The heroine has mixed feelings about doing proxy wedding vows for her best friend but the hero doesn't. There are a lot of twists and turns in this that keeps you wantin...
My Own Bookshelves
rated it
3 years ago
Pending Review4.0 out of 5.0 stars
jbarrett5 book reviews, etc
rated it
6 years ago
By Proxy, Heart of Montana Series by Katy RegencyFirst I fell in love with her knitted hat and his zippered fair isle sweater. I had read another Christmas story from the author and loved it.I had never heard of a proxy marriage so it was interesting to read about it and look up other facts online. ...
Punya Reviews...
rated it
6 years ago
I just won a giveaway of an ebook ARC of By Proxy, hosted by My Nook Books and More! Knowing my luck at winning anything, this was a big surprise but YaY anyway!! ;p
Bridget Blackwood
rated it
6 years ago
If I had to sum up By Proxy in one word, I would say sweet. With all the Christian Grey-esque heroes running around today, one can forget that a hero can be manly without being so alpha he has cave man tendencies. He can be funny, smart, and nice. Sex? Yeah, he wants to, but he wants you more. I lik...