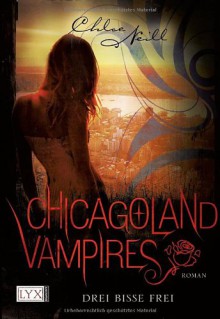 Chicagoland Vampires: Drei Bisse frei
ISBN:
9783802587900 (3802587901)
Publish date:
June 1st 2012
Edition language:
Deutsch
Series:
Chicagoland Vampires (#4)
Bookstores:
SnoopyDoo's Book Reviews
rated it
1 year ago
Times are hard for newly minted vampire Merit. Ever since shapeshifters announced their presence to the world, humans have been rallying against supernaturals—and they're camping outside of Cadogan House with protest signs that could turn to pitchforks at any moment. Inside its doors, things between...
Steamy reads with a dollop of magic, mystery and hot... hot men
rated it
2 years ago
Put a fork in me - I'm done with this series. I liked (but never loved the first few books) - but I saw real promise in the series/concept/main character but I've come to realise with this book that my hope for this series turning into something great with a strong female lead that I can root for t...
E.J. Stevens
rated it
2 years ago
Gah! That ending. ALL THE FEELINGS.
Carolyn Cannot Live Without Books!
rated it
3 years ago
Audiobook - I also have the paperback. The ending was so unbelievable - I felt like I should scream out that there's been a mistake. Not that I was totally invested with this character but still major action. Vague enough?
Musings and Ramblings
rated it
3 years ago
This is the fourth book in the Chicagoland Vampire Series by Chloe Neill and narrated by Cynthia Holloway. All of our favorites are back and once again, Merit has been placed into the role of investigator trying to keep Cadogan House clear of any blowback from supernatural shenanigans. After the ass...
Share this Book
http://booklikes.com/chicagoland-vampires-drei-bisse-frei-chloe-neill/book,6715342