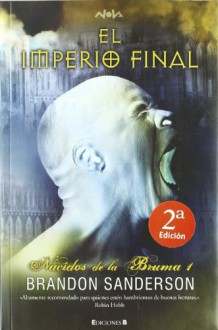 El imperio final (Nacidos de la Bruma, #1)
ISBN:
9788466631990 (8466631992)
Publish date:
November 2007
Edition language:
Spanish
Bookstores:
want a real life adventure? come to Australia we have spiders bigger than your hand.
rated it
2 years ago
I apparently hadn't read all of this book the first time round like i had originally thought, so the ending was a nice little surprise.....well mostly. Overall I still loved the book (how could I not love something created by Brandon Sanderson!?!) though I still have mixed feelings about Vin's chara...
Wortmagieblog
rated it
2 years ago
Brandon Sanderson begann bereits während seines Studiums ernsthaft an seiner Karriere zu feilen. Mit bewundernswerter Ausdauer schrieb er Roman um Roman, schickte sie an Verlage und sammelte Absagen, bis er 2003 endlich akzeptiert wurde. Es folgte ein kometenhafter Aufstieg, der ihn in den Olymp der...
Lost Girls Reviews
rated it
2 years ago
This book kept me up until almost 5 am because I just had to finish it. Not only was it unique, it kept me guessing right up until the very end, which so few books have done, and the characters were phenomenal. A thousand years ago the hero that was prophesied to save the world, failed. The Lord...
Jocelyn (The Reading World)
rated it
3 years ago
Triggered by a status update I made a few hours ago, although I meander around the topic significantly here, looking over this in retrospect. I've written like 3 different reviews in the past and torn them all down. Does anyone else get that experience? Sometimes you read a book, you write a revie...
Lindsay's Book Log
rated it
3 years ago
I've been hearing about this book everywhere lately so I picked it up since I've been on a fantasy kick lately. I can totally see why people are raving about this book. It's got a heist aspect to it, it's got a revolution aspect to it, and it's really well done. I really love Vin and Kelsier, I like...
Share this Book
http://booklikes.com/el-imperio-final-nacidos-de-la-bruma-1-brandon-sanderson/book,558312