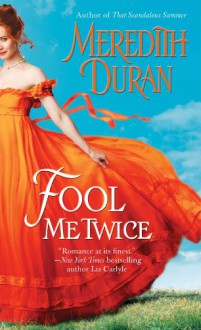 Fool Me Twice
ISBN:
9781476741352 (1476741352)
Edition language:
English
Series:
Rules for the Reckless (#2)
Bookstores:
Rachel's books
rated it
7 years ago
Olivia is on the run. She finds a place as a housekeeper in Alastair's house. Alastair is depressed and hiding in his house since his wife died and he discovered she had been cheating on him and spreading secrets. I enjoyed this. The first part of the book is Olivia taming/coxing Alastair to learn t...
Manga Maniac Cafe
rated it
7 years ago
DNF at 9%I'm just not in the mood for this right now. Moving on
P. Wish Rants and Reviews
rated it
8 years ago
Fool me Twice is a historical novel with a nice premise. I decided to read this book after coming across multiple positive reviews of it. I liked the way the book starts. The tension between the characters kept me reading. The initial premise was well brought out in the first few pages. However, my ...
Fantasy is More Fun
rated it
9 years ago
My Initial Reaction... I really enjoyed Fool Me Twice - it had a few twists that I wasn't expecting. And it fulfilled my craving for a good historical romance!The Narration... Alison Larkin was the narrator for Fool Me Twice and she was a good fit. I don't know if she normally reads with a British a...
Rose Lerner
rated it
10 years ago
I was super excited for this book because I adored Olivia in the prequel and was excited about another of my favorite trope: h/h goes undercover in a job they don't care about and then cannot bear to do the work in a subpar manner. In this case, Olivia goes undercover as agoraphobic Alastair's house...