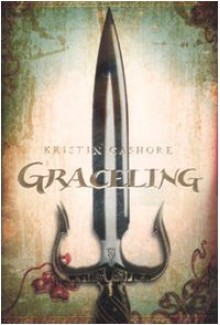 Graceling
ISBN:
9788841856383 (8841856386)
Edition language:
Italian
Series:
Seven Kingdoms Trilogy (#1)
Bookstores:
Let's Talk about Books!
rated it
2 years ago
I really enjoyed this book! Graceling is the first book in the Graceling Realm series by Kristin Cashore. Our main character is Katsa. She has been gifted with the Grace of killing. In this world people who are gifted with Graces are looked down upon, at least where Katsa grew up. Graces are basical...
The Primroses Were Over
rated it
3 years ago
I was kind of hoping for more with this. The idea of graces was an intriguing one, and thus the world had the potential to be interesting, but that potential was not really fulfilled. The politics of the situation seemed overly simplistic, although they were a central point of the plot, and the p...
Jenn's Book Reviews
rated it
3 years ago
I absolutely loved this book! From the first chapter on, I was addicted. The only downside I find, is that I absolutely disliked the ending. I personally think the author could have made such an amazing ending to the book, but ended up with an average one that, as I mentioned before, did not like at...
The More I Read. . .
rated it
3 years ago
True confession: I've only read a middling amount of fantasy and YA (when I grew weary of the 'same old same old' historical romances about two years ago, I read only YA.) But. . . I've never read The Hunger Games despite my sister's best efforts at forcing/cajoling/whining/bribing to get me to, nor...
The Reading Jackalope
rated it
4 years ago
Finally. I am so glad to be done with this book. My biggest complaint is one I mentioned in a status update. Cahore wants to tell you how women are disadvantaged in a patriarchal society, but she doesn't want to explore the consequences. Bah. Tamora Pierce did the girl warrior a hundred times better...