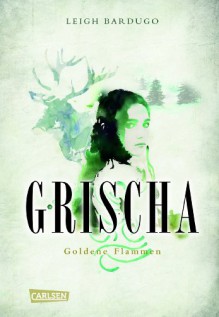 Grischa: Goldene Flammen (Grischa, #1)
ISBN:
9783551582850 (3551582858)
Publish date:
August 28th 2012
Publisher:
Carlsen Verlag
Edition language:
Deutsch
Bookstores:
Booka
rated it
1 year ago
CYKL: "GRISZA" (TOM 1) Alina Starkov i Mal Orecev to sieroty, które wychowują się u Diuka Keramsova. Pewnego dnia pojawiają się pewni ludzie, którzy przyszli w jednym celu - jakkolwiek to brzmi - aby pozyskać kolejne dzieci o cudownych mocach.Wiele lat później żołnierka Alina Starkov, która pełni ...
Tired of Spamlikes
rated it
4 years ago
Surrounded by enemies, the once-great nation of Ravka has been torn in two by the Shadow Fold, a swath of near impenetrable darkness crawling with monsters who feast on human flesh. Now its fate may rest on the shoulders of one lonely refugee. Alina Starkov has never been good at anything. But when ...
Paint the Town Read
rated it
5 years ago
I have to say, I was a bit disappointed. It wasn't a bad book, but... I read Six of Crows and Crooked Kingdom before I started this series. The world building and the characters in the Six of Crows series was phenomenal. I adored the books. I expected the same here. I didn't hate the book, but it wa...
The Bone Chamber
rated it
5 years ago
I am a big fan of Leigh Bardugo's Six of Crows series its one of my favorite young adults from the recent years. I was very eager to finally start this series, based on the fact that I loved her later works. Sadly this one didn't invoke the same feelings as I had when I read Six of Crows. To be fair...
BookshelvesandTeaParties
rated it
5 years ago
Amazing! Loved the writing and the world and the romance! Didn't like the characters, but I'm hoping to see them get better further on in the trilogy!