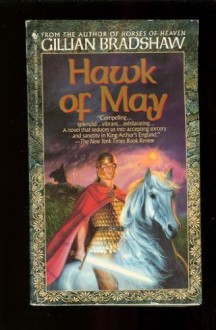 Hawk of May
Format:
mass market paperback
ISBN:
9780553299229 (0553299220)
Publish date:
October 1st 1992
Edition language:
English
Series:
Down the Long Wind -3 (#1)
Bookstores:
Lisa (Harmony)
rated it
9 years ago
I can always depend upon Bradshaw for a good story grounded in history with appealing characters. If I'm not rating this higher... Well, when it comes to Arthurian works, she has really tough competition--even if you leave aside acknowledged classics of literature by Mallory and Tennyson. There are ...
By Singing Light
rated it
10 years ago
I've read four books by Gillian Bradshaw so far: The Beacon at Alexandria,London in Chains, Island of Ghosts, and Hawk of May. I expect I'll eventually read her whole backlist, if I can get my hands on it. She's exactly the kind of historical fiction writer that I not only enjoy but respect, and tho...
Dantastic Book Reviews
rated it
14 years ago
Gwalchmai ap Lot, the middle child of Morgawys and Lot, learns sorcery from his mother to make up for his short comings as a warrior. However, his mother's sorcery is seething with Darkness and Gwalchmai flees the Orcades, set on joining Arthur's warband. Before making it to Britain, he stays in L...
Dreamer
rated it
42 years ago
Read this in 1982 according to old diary