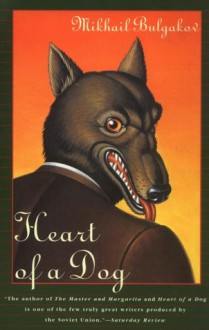 Heart of a Dog
ISBN:
9780802150592 (0802150594)
Publish date:
January 21st 1994
Edition language:
English
Bookstores:
philoSophie
rated it
6 years ago
The witty and satirical mood of the book is tangible. Whilst similar to the themes of Frankenstein, The heart of a dog not only deals with eugenics, but is a satire in its purest form. Bulgakov's work criticizes the communist creation of the new Soviet man and highlights the inconsistencies of the s...
shell pebble
rated it
7 years ago
Philip Philipovich, surgeon, reproductive expert and refined borgeois gentleman, makes the grievous error of transplanting a human pituitory gland and testicles into a mongrel he has enticed with a piece of sausage. The dog is unexpectedly transformed into a human, taking on the unprepossessing dogg...
Anya's Books
rated it
8 years ago
I really enjoy Bulgakov's stories but I think I don't like his writing style. The "I think" is because I depend on the interpreters skill at bringing works of Russian literary fiction to life in the English language - not an easy task. I also wonder if dark satire is really my thing. I like Vonnegut...
nataliya
rated it
8 years ago
"The whole horror of the situation is that he now has a human heart, not a dog's heart. And about the rottenest heart in all creation!" The recipe for success a la Bulgakov: # Take a street dog, hungry and flea-ridden and wickedly smart (yes, he can even read - you gotta do that to survive on th...
Edward
rated it
9 years ago
ChronologyIntroductionA Note on the TextFurther Reading--A Dog's HeartNotes
Share this Book
http://booklikes.com/heart-of-a-dog-mikhail-bulgakov-mirra-ginsburg/book,760495