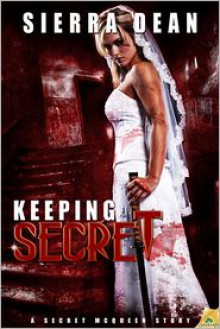 Keeping Secret
Sierra Dean,NOOK Book (eBook),Series: Secret McQueen 4, English-language edition,Pub by Samhain Publishing, Ltd. on 07-10-2012
Sierra Dean,NOOK Book (eBook),Series: Secret McQueen 4, English-language edition,Pub by Samhain Publishing, Ltd. on 07-10-2012
show less
ISBN:
9781619211520 (1619211521)
Publish date:
July 10th 2012
Publisher:
Samhain Publishing, Ltd.
Edition language:
English
Series:
Secret McQueen (#4)
Bookstores:
Mitabird
rated it
9 years ago
Even though this story was 95% wolf related, I actually liked it. Plus part of my wish was granted and that makes me a happy gal. I forgot a lot of what happened in this book, so it was almost like reading it the first time. Lucas was still a big ass and I hated what he put Secret through. All th...
PG's Books
rated it
9 years ago
This is definitely not the strongest book in the series. Actually, I would go as far as to say that it is the weakest one I have read so far.Almost the entire book revolves around Secret and Lucas wedding. Well, not the wedding itself but a lot of rather contrived procedures and werewolf politics ar...
Red Hot Books
rated it
10 years ago
I hate Lucas.I hate him with the fiery passion of a thousand suns. With every book in this series, my loathing for him grows. And with every allowance Secret gives him, I want to douse her in cold water.As evidenced by the amazing cover, this is the wedding book. (Yes, I thought it came along fas...
e.g. My title
rated it
10 years ago
This was the first book in the series that actually had some emotional impact for me. I think the love triangle with Lucas and Desmond blowing up was a long time coming. Before I continue I must admit that I am firmly on team Desmond. While I understand that Lucas needs to consider the pack he pis...
Nocturnal Book Reviews
rated it
10 years ago
4.5/5I seriously LOVE this series! Very easy read, so entertaining, sassy and fun!Why? See here and here. *SPOILERS AHEAD*Mwahahaha! Lucas, you stupid jerk, you got what you deserved! Seriously, I despise this guy, I couldn't see what Secret was seeing in him and her staying in the relationship with...