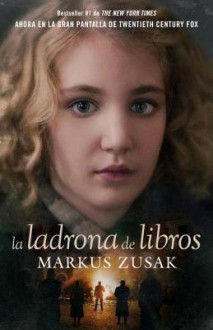 La ladrona de libros
ISBN:
9780307832382 (0307832384)
Publish date:
December 5th 2012
Edition language:
English
Bookstores:
"So it goes."
rated it
2 weeks ago
Nobody needs a review from me of a book that's been around forever, but I was so affected by this one that I feel a need to at least commemorate that much. I read it a few weeks ago, and the characters are still with me. I'm still affected by this book, and I'm sure I will be for a very long time. ...
AMAITKEN.COM Book Reviews
rated it
1 year ago
I started the book on my ride back from Prague. I found this quirky book after looking up the last years (or two years ago, maybe three) top books. This stumbled right into my palms, and I ordered it straight away. Now, it's not my usual book, which may, possibly, be an explanation for why it's not ...
Burfobookalicious
rated it
2 years ago
The word 'superb' is not one I bandy about lightly, but it seems eminently appropriate for "The Book Thief" by Marcus Zusak. Not only is it inventive in the use of Death as a narrator, which adds a peculiar perspective to the story and confers so much more than a simple device, but the plot and char...
Mallory Kellogg, Chubbygirlreads
rated it
2 years ago
Where do I even begin with this? I have so many mixed feelings. Let's start at the beginning. It's told by Death. I found that amazingly unique. The writing style is whacky but once you get it, it flows well enough. It involves Nazi Germany, which is never a wonderful, joyful topic. It always...
Cheri's Book Blog
rated it
2 years ago
This is, without a doubt, one of the best books I've ever read. Here's what I knew about it going in: it takes place during WWII and has Nazis in it. Not a lot to go on. It had been on my TBR list for a long time but I kept passing it by, just not sure what it was about or if I was in the right fram...
Share this Book
http://booklikes.com/la-ladrona-de-libros-markus-zusak/book,243648