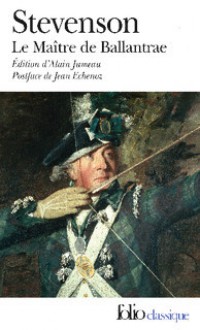 Le Maître de Ballantrae
Format:
mass market paperback
ISBN:
9782070403547 (2070403548)
Publisher:
Editions Gallimard
Bookstores:
Gatta ci cova
rated it
4 years ago
La metterei così: il lancio di una moneta stabilisce le sorti. Il Male penetra il Bene, ne diviene coscienza fino a farlo impazzire. P.S. Basterebbe accettare d'esser plurimi per rimanere savi?
A Man With An Agenda
rated it
5 years ago
Robert Louis Stevenson is in a constant shoving match with Trollope to be my favorite Victorian. If it comes down to it, its pretty clear which man would win.Hint: Its not the one who writes sensitive drawing room think-pieces.'The Master of Ballantrae' has all the trappings of an adventure story, b...
Bettie's Books
rated it
6 years ago
bookshelves: adventure, classic, historical-fiction, revenge, britain-scotland, victorian, seven-seas, war, published-1889, hardback Read in June, 2009, read count: 2 Description: Set in Scotland during the 1745 Jacobite Rebellion, in the exotic French Indies, and in the North American wildernes...
mashahsam
rated it
10 years ago
""
Bettie's Books
rated it
10 years ago
Cannot pass up an opportunity to listen to this as a re-read. Stars David Rintoul and Liam Brennan.Broadcast on:BBC Radio 7, 3:00am Saturday 10th July 2010Duration:60 minutesAvailable until:4:02am Saturday 17th July 2010Categories:Drama, Classic & PeriodCredits:Susan HampshirePhilip LathamRoland Cul...