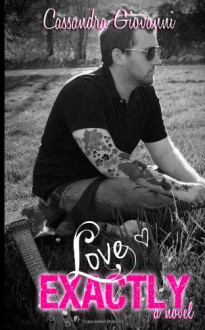 Love Exactly
ISBN:
9781482688511 (1482688514)
Publish date:
June 20th 2013
Publisher:
Show n'ot Tell Publishing
Edition language:
English
Series:
Sticks & Stones (#1)
Bookstores:
I ♥ Bookie Nookie Reviews
rated it
5 years ago
❝ This was love exactly as it was supposed to be, slow, sweet, and agonizing in its perfect way.❞LOVE EXACTLY is a sweet fairy-tale romance complete with a handsome prince that every girl dreams of finding some day.Emma is a nobody, okay, well, that's not entirely true. She's an aspiring author wit...
alifeboundbybooks
rated it
5 years ago
Great rock star/girl next door story. And I hope with that ending there will be a continuation of Evan & Emma's story?
Aya M. Productions
rated it
5 years ago
I think this book is super adorable. I got a bit confused since it seemed like there were some unexpected time lapses, but other than that I love the story!
Miss Construed's Reviews
rated it
5 years ago
Love Exactly GiveawayLove Exactly was sweet, kind, gentle. It was like falling in love for the first time. The exhilarating, almost breathless journey from friends to more. I wasn't emotionally ripped apart or beaten to a pulp, in fact it was just the opposite. If you're looking for something to eas...
The Paper Gardens
rated it
6 years ago
I signed up to help with a cover reveal for this book (back when it was called "Just One Cup") and was promised an early copy in exchange. My email was down for a few weeks though (thanks a lot, Thunderbird >_>), and I sat around incredibly antsy because I knew that I'd have my copy in there soon, b...