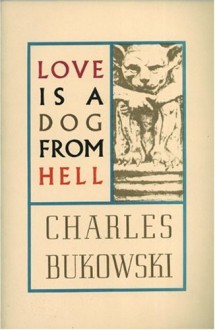 Love is a Dog from Hell
Description not available
Description not available
show less
ISBN:
9780876853627 (0876853629)
Edition language:
English
Bookstores:
My Reading World!
rated it
8 years ago
One can never be sure whether it's good poetry or bad acid...
MadgeWhitlin
rated it
10 years ago
I'm beginning to think there's something wrong with me. I have read so many books that people say "You either love it or hate it," yet I feel indifferent (or I slightly like or dislike it). Bukowski is the first writer I've seen described that way, and for a long time, I agreed. I agreed because I d...
...
rated it
10 years ago
This was the first time I've read anything by Charles Bukowski and maybe it wasn't the best poetry collection of his to start out with. As I read, I marked the poems that stood out to me. There were only ten, but those ten were marvelous. The others weren't horrible but it did get a little wearin...
Nymphadora's Attic
rated it
12 years ago
Perfect soundtrack to this reading - Tom Waits. And we all know not everyone admits his charm. Sure, he's miserable, he's rotten, and sometimes he can even make you sick, but he's talented and anyone who's ever been in the same emotional gutter can testify that.Bukowski is not only in touch with the...