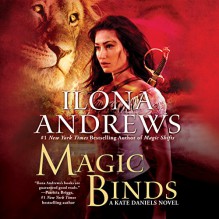 Magic Binds: Kate Daniels, Book 9
Publisher:
Brilliance Audio
Edition language:
English
Series:
Kate Daniels (#9)
Bookstores:
Rachel's books
rated it
5 years ago
Props to the author-duo for keeping KD fresh and exciting. Yes, I am sad the series is winding down. I think it's important to end on a high note instead of continuing just because and the books becoming less interesting/more frustrating, etc.While this was much more serious in tone, the banter/affe...
Mike Finn
rated it
5 years ago
This series has rebooted with a vengeance. The game changed in "Magic Shifts" with Kate and Curran stabilising their relationship, leaving the Pack and building a new power base of Mercs and former pack members and with the conflict between Kate and Roland, her I-WILL-dominate-the-world father, now ...
Blood Rose Books
rated it
6 years ago
This is the ninth book in the series and in order to enjoy the characters you need the background of the previous eight books to enjoy this one; Magic Bites, Magic Burns, Magic Strikes, Magic Bleeds, Magic Slays, Magic Rises, Magic Breaks and Magic Shifts. (I was reading this series before I started...
Book Hoarders Anonymous
rated it
7 years ago
Hmmm... I would hazard a guess that the threat of war, an impending wedding, oracles predicting either the death of your beloved or your as-yet unconceived child might make you a little...disjointed. Sure made for a disjointed book. And yet, the wedding interruptions were vastly amusing. That ...
Angel's Guilty Pleasures
rated it
7 years ago
Review originally featured on Angel's Guilty Pleasures Magic Binds Series: Kate Daniels #9 Author: Ilona Andrews Genre: Urban Fantasy - Paranormal Romance Publisher: Ace Release Date: September 20th 2016 Format: eBook/Paperback Pages: 328 Source: Bought Mercenary Kate Daniels knows...