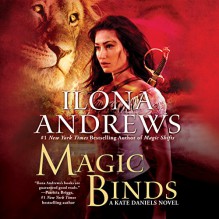 Magic Binds: Kate Daniels, Book 9
Publisher:
Brilliance Audio
Edition language:
English
Series:
Kate Daniels (#9)
Bookstores:
Mike Finn
rated it
3 months ago
This series has rebooted with a vengeance. The game changed in "Magic Shifts" with Kate and Curran stabilising their relationship, leaving the Pack and building a new power base of Mercs and former pack members and with the conflict between Kate and Roland, her I-WILL-dominate-the-world father, now ...
Blood Rose Books
rated it
1 year ago
This is the ninth book in the series and in order to enjoy the characters you need the background of the previous eight books to enjoy this one; Magic Bites, Magic Burns, Magic Strikes, Magic Bleeds, Magic Slays, Magic Rises, Magic Breaks and Magic Shifts. (I was reading this series before I started...
Book Hoarders Anonymous
rated it
2 years ago
Hmmm... I would hazard a guess that the threat of war, an impending wedding, oracles predicting either the death of your beloved or your as-yet unconceived child might make you a little...disjointed. Sure made for a disjointed book. And yet, the wedding interruptions were vastly amusing. That ...
Wanda's Book Reviews
rated it
2 years ago
Mercenary Kate Daniels knows all too well that magic in post-Shift Atlanta is a dangerous business. But nothing she's faced could have prepared her for this… Kate and the former Beast Lord Curran Lennart are finally making their relationship official. But there are some steep obstacles standing in t...
Angel's Guilty Pleasures
rated it
2 years ago
Review originally featured on Angel's Guilty Pleasures Magic Binds Series: Kate Daniels #9 Author: Ilona Andrews Genre: Urban Fantasy - Paranormal Romance Publisher: Ace Release Date: September 20th 2016 Format: eBook/Paperback Pages: 328 Source: Bought Mercenary Kate Daniels knows...