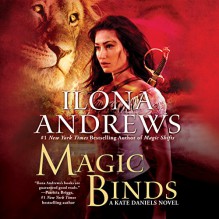 Magic Binds: Kate Daniels, Book 9
Publisher:
Brilliance Audio
Edition language:
English
Series:
Kate Daniels (#9)
Bookstores:
Wanda's Book Reviews
rated it
4 months ago
Mercenary Kate Daniels knows all too well that magic in post-Shift Atlanta is a dangerous business. But nothing she's faced could have prepared her for this… Kate and the former Beast Lord Curran Lennart are finally making their relationship official. But there are some steep obstacles standing in t...
Angel's Guilty Pleasures
rated it
4 months ago
Review originally featured on Angel's Guilty Pleasures Magic Binds Series: Kate Daniels #9 Author: Ilona Andrews Genre: Urban Fantasy - Paranormal Romance Publisher: Ace Release Date: September 20th 2016 Format: eBook/Paperback Pages: 328 Source: Bought Mercenary Kate Daniels knows...
Tami
rated it
5 months ago
God, this was good. My initial plan was to save money and wait for the inevitable price drop. Then I got a salary raise at work and thought "F*ck it". So worth every cent. I loved it. So so much! This is not much of a review, as this is the 9th book in this series - people who haven't star...
Yodamom Finds her Force
rated it
9 months ago
If you are not reading this series, you should be.I slowed down when I got close to the end so I could enjoy it longer. Doesn't that say it all ? How can they keep writing books that I can't wait to finish and hate to finish at the same time ? The side characters really came into play in this book, ...
Ami's Hoard
rated it
9 months ago
Not going to review this because well, up to this point, I will probably just going to say OMG I LOVED IT!! So yeah, no reviews. Just things that popped on my head as I read thisAll the f*cking twists that made me all excited about! [spoiler] + Kate's reaction to wedding preparation is just, so Kate...
Share this Book
http://booklikes.com/magic-binds-kate-daniels-book-9-renee-raudman-ilona-andrews/book,13757565