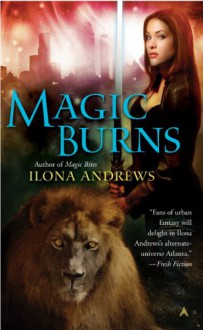 Magic Burns
ISBN:
9781436208130 (1436208130)
Publish date:
April 1st 2008
Edition language:
English
Series:
Kate Daniels (#2)
Bookstores:
The Caffeinated Diva reads...
rated it
10 months ago
Magic Burns is the second book in the Kate Daniels series and I loved it just about as much as I did the first. Magic comes and goes unpredictably in the world of Kate Daniels, but every seven years there is a magic flare. During those times, the magic runs wild and brings with it even bigger magica...
The better to see you, my dear
rated it
1 year ago
So much fun. This was the volume where I knew I would love this saga (as if that first description and noodle incident of the capitol at the start of vol 1 hadn't done the thing), and it was just as good this time around. Freaky warring Kate is a thing to read. Having reached vol 9, the flare batt...
Linda78
rated it
1 year ago
This is the second book in the Kate Daniels series and... I'm not really feeling it. A lot of that has to do with Curran and his alpha male douchebaggery. I just want to knock him over the skull with something blunt shaped and heavy. Am I supposed to give a fig that he like-likes Kate? Like, OMG, a ...
Miamoa
rated it
2 years ago
Re-read
Wanda's Book Reviews
rated it
2 years ago
Down in Atlanta, tempers – and temperatures – are about to flare…As a mercenary who cleans up after magic gone wrong, Kate Daniels has seen her share of occupational hazards. Normally, waves of paranormal energy ebb and flow across Atlanta like a tide. But once every seven years, a flare comes, a ti...
Share this Book
http://booklikes.com/magic-burns-ilona-andrews/book,2586111