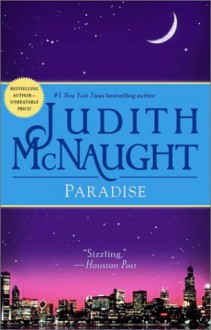 Paradise
Format:
mass market paperback
ISBN:
9780743474160 (0743474163)
Publish date:
July 29th 2003
Edition language:
English
Series:
Second Opportunities (#1)
Bookstores:
Crazy Reader
rated it
3 years ago
This is my first book of this author. The style reminds me a lot of other author which i read. Meredith and Matt,LisaParkerPhilip all characters are so well described .Although i would liked to have some more of Lisa in this. The story is nothing different, its quite obvious and can easily be guesse...
Banana's Book Blog
rated it
4 years ago
700+ pages and I still want more... Now thats a great book Firstly, I have to thank Angie for recommending this book to me. It was everything she said it would be and more. Secondly, this book has shown be that without a shadow of a doubt, authors used to write much better romances. I think about al...
Mei's shelves
rated it
4 years ago
An emotional rollercoaster!I loved this book! This is one of the most virtually sizzling books I've read lately. Why virtually? Because nothing is openly described, but it was sizzling all the same. The powerful pull was there all through the book.I loved the story, I loved the characters, I love th...
Rashika, The Book Owl
rated it
4 years ago
I didn't even notice how long this book was, it kind of just flew by. I've had my eye on it for a while so it's a relief to finally read it but I'll say this, I may have expected a tid bid more.Matt and Meredith are great main characters and one cannot help loving them both but sometimes Meredith pi...
tishke
rated it
4 years ago
2.5 starsThere were things I really liked about this book and so much I hated that I have no choice but going down the middle in rating it. Overall, it was like an over dramatic soap opera.The first 1/3 of the book, I could do without since they were discussed again later on. I understood why Meredi...