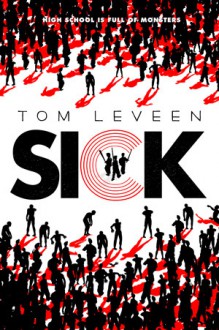 Sick
ISBN:
9781419708053 (1419708058)
Publish date:
October 1st 2013
Publisher:
Harry N. Abrams
Edition language:
English
Bookstores:
100 Pages A Day...Stephanie's Book Reviews
rated it
6 years ago
One more book for Halloween Bingo! This is obviously for "The Dead Will Walk" square when it is called. High school is a place where many kids feel like they just don't fit in. That is definitely true for Brian and his friends, a collection of misfits who decided to skip a few classes they day o...
Twirling Book Princess
rated it
10 years ago
Sorry, but glittering zombies??? No, just No. Kthnxbye~I already didn't like that Twilight made glittering vampires (it was soooo hilarious at times), but now we have GOLDEN glittering ZOMBIES... Like what the hell? Did not Finish.
Reading With Cass
rated it
10 years ago
Definitely an awesome Zombie book. It was different and it had a lot of intense gory scenes. The writing was a bit weak but the action and the whole Zombie thing really held my attention.
Books With Bite
rated it
10 years ago
I pick up this story, cause well you know me. I love zombies. And a zombie tale in a high school? I'm so there! Plot: This story follows a few teenagers who get stuck in a zombie apocalypse while there are in school. One thing that really captures me in the story, is the piece by piece information...
Megan @ The Book Babe's Reads
rated it
10 years ago
Sick was kind of a weird read for me. I went into it expecting this awesome, kick-ass crew of people fighting terrifying zombies that are in lockdown with them. But I didn't really get that, to tell you the truth. While there was zombies, and there was a group of people fighting them, most of the st...