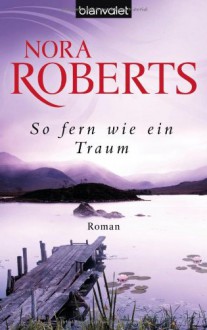 So Fern Wie Ein Traum
ISBN:
9783442375974 (3442375975)
Edition language:
Deutsch
Series:
Dream Trilogy -3 (#3)
Bookstores:
Sailing in a Sea of Words
rated it
4 years ago
Book: Finding the Dream Author: Nora Roberts Genre: Fiction/Romance/Family Summary: Laura Templeton found out the hard way that nothing in life is guaranteed. The daughter of a wealthy hotelier, she had always known comfort, privilege, and security. But by the age of thirty, her storybook marr...
The Reading Bud
rated it
9 years ago
Kate Tempelton has been my favourite since the time I read the first book in the Dream Trilogy. She is self-less, kind, loving and adorable. She portrays the soft feminine side very well. This book gives us the details of her marriage and divorce and also her hardships in coping with her life as a s...
Cassandra Reads
rated it
9 years ago
Once again, this book includes relationship drama at the very end. It happened a little sooner than it did in the first two books (3-4 chapters from the end rather than 2 chapters) but then there was almost dying drama and that took away from the time they could have fixed the relationship drama so...
Dawn772
rated it
12 years ago
Good conclusion to the trilogy, it moved right along with an interesting plot. I liked how the hero interacted with the children and his horses although he did get kind of stubborn near the end. Michael rents Templeton stable and his horses lure Laura and her kids.
all hearthfires & holocausts
rated it
12 years ago
Really loved this trilogy - the bonds between the women and their resurgence through heartbreak.