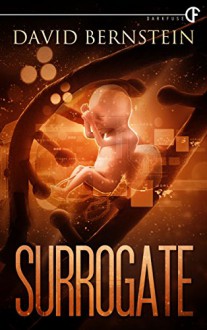 Surrogate
Edition language:
English
Bookstores:
Devouring Books
rated it
8 years ago
Surrogate is a twisted, calculated, dark thriller that has a science fiction sprinkled in. It starts off with an opening that is guaranteed to grab your attention and the book remains fast paced until the end. Emotions run high and are portrayed well even though the book moves fast.The characters ar...
Kitty Horror
rated it
9 years ago
A random act of violence stops Rebecca and Tom's dreams of having children. Just when Rebecca thinks all hope is lost she is put in contact with a scientist who is using cloning as a means to give couples an opportunity to conceive their own children. Another storyline concerns Jane who is pregnant ...
Lornographic Material
rated it
9 years ago
If there's one thing I learned from reading this book it's this: If you die and your soul inhabits a new body, you become a complete an utter badass. Like hitman level awesome. An ass kicker on par with Milla Jovovich in Resident Evil. You can take down entire families in a single bound, and magical...
Chris' Eclectic Book Reviews
rated it
9 years ago
I received an ARC copy of this book in exchange for an honest review. Another very enjoyable novella from Darkfuse who is my go-to publisher for horror these days. Rebecca and Tom are unable to have children and opt to engage the services of a ethically challenged doctor who clones humans (and t...
mpontiff
rated it
9 years ago
Surrogate was my first time reading anything by Bernstein and it was a treat! Tom and Rebecca Hardwick have been trying to have a baby but their plans end in disaster when Rebecca gets hot by a stray bullet, ruining one of her ovaries. While in surgery to repair the damage, the surgeon finds that d...