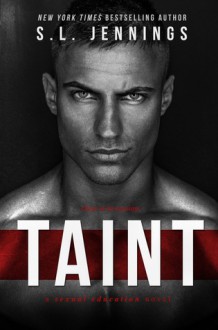 Taint
Edition language:
English
Bookstores:
jensreadingobsession
rated it
4 years ago
Wow, this was a hot read with a surprise twist towards the end. Justice was not what I was expecting going into the story, but I found that I liked the soft side of him. I really liked the Ally was perfect to Justice just the way she is - quirkiness and freckles included. There were some moments ...
Banana's Book Blog
rated it
5 years ago
Taint was such a surprise for me. I went in thinking that this guy was going to be a major dick for the majority of the book, but instead we met him, and though he did have plenty of dick moments, it was clear, that he was so much more than that. I also have to admit that I love male POV reads, espe...
The Blue Owlary
rated it
5 years ago
Taint by S.L. Jennings Published by Amazon Publishing on May 19th 2014 Genres: Contemporary, Dating & Sex,Erotica, Fiction, Love & Romance,Romance Pages: 242 Format: eBook Goodreads Right now, you're probably asking yourself two things:Who am I?And, what the hell are you doing here? Let's start wi...
TJlovestoread. Romance Reviews & More
rated it
5 years ago
4.5 stars This book will certainly Taint you with curiosity and then grip you with its sometimes outrageous but mostly lonely, broken and sweet protagonist. Before I tell you a bit more what I enjoyed and what didn't do it for me, I would like to remind ourselves that this is an erotic work of ficti...
Peggy's Blog
rated it
5 years ago
What can I say from the book cover till the end an AMAZING HOT story I think that Justin Drake will not have problems filling his course after reading this book. Where is this Oasis? I think I need some lessons too!!
Share this Book
http://booklikes.com/taint-s-l-jennings/book,10845338