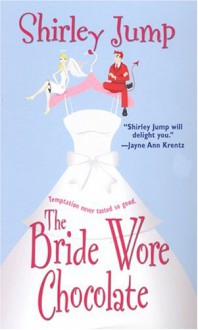 The Bride Wore Chocolate
ISBN:
9780821776919 (0821776916)
Publish date:
September 1st 2004
Edition language:
English
Series:
Recipes with Romance (#1)
Bookstores:
Arlena Has Read and Reviewed What Novels?
rated it
4 years ago
Title: The Bride Wore ChocolateAuthor: Shirley JumpPublisher: ZebraSeries: Recipes With Romance #1Reviewed By: Arlena DeanRating: 5Review:"The Bride Wore Chocolate" by Shirley Jump was a delightful fun contemporary romance. This author really made the read very interesting with after each chapter we...
Trea's Journey for a Good Book
rated it
4 years ago
This was pretty good for a book I took a chance on! I found it funny in a number of spots, but nothing really gut busting. It was a quick read, but the author didn't skimp on the book either! It feels like a full fleshed story, even with the quick read statute. I read this a bit out of order, as I l...
Aurelia B. Rowl
rated it
6 years ago
This is the second book by Shirley Jump I've finished in the space of a week - my first experience of the author's writing was a recent title published by Harlequin Romance - and the difference in styles was immediately apparent with The Bride Wore Chocolate being more of a romantic comedy rather th...
jbarrett5 book reviews, etc
rated it
6 years ago
The Bride Wore Chocolate by Shirley JumpISBN: 9781937776268 Love that this book comes with recipes, chocolate ones. A recipe at the start of each chapter and there are 26 of them! That is what first attracted me to wanting to read this book. weddings and chocolate.Love that 3 women in business is ...
Harlequin Junkie
rated it
6 years ago
My Blog: HarlequinJunkie Romance Reviews'Bride wore Chocolate'is an absolutely delightful 'Rom Com' you do not want to miss out on. Take one cautious bride in Candace Woodrow + one boring fiancé add a dollop of delicious temptation in Michael Volgler and you got yourself an absolute treat on your ha...
Share this Book
http://booklikes.com/the-bride-wore-chocolate-shirley-jump/book,2077835