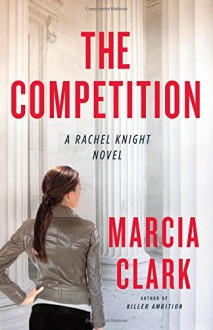 The Competition
ISBN:
9780316220972 (0316220973)
Publish date:
July 8th 2014
Publisher:
Mulholland Books
Edition language:
English
Series:
Rachel Knight (#4)
Bookstores:
sherrysniderfundin
rated it
2 years ago
I would like to thank Marcia Clark, NetGalley and Mulholland Books to have the opportunity to read and review The Competition, the fourth book in the Rachel Knight series. Amazon / Audiobook / Goodreads MY REVIEW I am really eager to begin to read this one because I am hoping to find out the ...
Blood Rose Books
rated it
5 years ago
This book could be read as a stand alone novel as it is not entirely necessary to read the previous three in the series to understand what is occurring in this book or Rachel as a character. Yes, the relationships within the book are established in the previous three books Guilt by Association, Guil...
Irresponsible Reader
rated it
7 years ago
So, Rachel Knight and her pal Det. Bailey Keller are called to the scene of a deadly shooting at a high school. Very deadly -- it soon becomes clear that there will be a higher death count here than any other school shooting, which is exactly what the gunmen were going for. Students of mass shooti...
Denise
rated it
7 years ago
"It's one thing to know your kid has issues, but it's a whole different world to think those issues might add up to mass murder." This was by far the best book of the series. This book covers a horrific subject, that has unfortunately happened more and more recently, a school shooting. This was qui...
JDCMustReadBooks
rated it
7 years ago
By Marcia Clark ISBN: 9780316220972Publisher: Mulholland BooksPublication Date: 7/8/14Format: OtherSeries: Rachel Knight SeriesPages: 416 My Rating: 4 Stars A special thank you to Mulholland Books and NetGalley for an ARC in exchange for an honest review. THE COMPETITION, (Rachel Knight #4), by...
Share this Book
http://booklikes.com/the-competition-marcia-clark/book,11085677