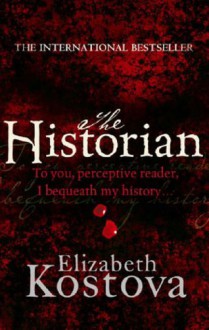 The Historian
trade 1st edition paperback, fine
trade 1st edition paperback, fine
show less
ISBN:
9780751537284 (0751537284)
Publisher:
Time Warner Books
Edition language:
English
Bookstores:
Thewanderingjew
rated it
3 months ago
The Historian, Elizabeth Kostova, author; Joanne Whalley, Dennis Boutsikaris, Rosalyn Landor, Martin Jarvis, Robin Atkin Downes, Jim Ward, narrators Does Vlad Tepes, Count Dracula still live? That is the subject of this book. The reader will travel all over the world with the characters as the searc...
Moonlight Reader
rated it
1 year ago
If you've seen my updates, you'll probably remember that I was pretty excited about this book back at the beginning. Unfortunately, that excitement didn't continue through to the end. This book was 704 pages long. The story was probably worthy of 50% of that length. It had its positives - the...
chaizeokelley
rated it
2 years ago
What a surprisingly great read! Much different than my normal book but I enjoyed every minute.
Ray Foy's Literary Journey
rated it
2 years ago
The Historian is Elizabeth Kostova's long novel about a group of people's search to find and destroy the vampire, Dracula. This is the same Dracula who is the object of Bram Stoker's classic novel, inspired by the historic ruler of Wallachia (next door to Transylvania), resister of the Ottoman Empir...
Reading For The Heck Of It
rated it
2 years ago
Okay, I can admit that I have a vivid imagination and at times it has run away with me. This might be one of those times. I was about 50 pages (or fewer) into The Historian and I started to question if what I was reading was actually a work of nonfiction. Let me remind you that this is the story of ...
Share this Book
http://booklikes.com/the-historian-elizabeth-kostova/book,131734