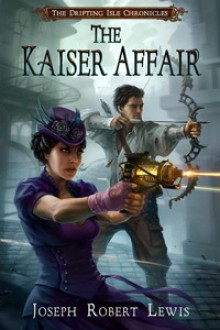 The Kaiser Affair
Publish date:
March 6th 2013
Publisher:
Copper Crow Books
Edition language:
English
Series:
The Drifting Isle Chronicles (#1)
Bookstores:
The Great Destroyer
rated it
6 years ago
Free today on Amazon.
Pauline's Fantasy Reviews
rated it
7 years ago
Fantasy Review BarnI recently read 'The Burning Sky', the author's debut book, and while I loved the original setting and found the story a fast-paced steampunk adventure, the characters never quite came alive for me. The author had a truly wonderful response to that; he made the whole Halcyon serie...
Zemfirka Blogs
rated it
7 years ago
An interesting concept for the series. This novel was different from my recent reads, but with familiar steampunk elements. I really enjoyed the main characters and the dynamic between the two was great.
myworldinwordsandpages
rated it
7 years ago
Partners on the job, and in life, Bettina Rothchild and Arjuna Rana race through their home town, Eisenstadt, on a wicked chase. The Ministry of Justice's Minister, Minister Kaiser, has an urgent and sensitive case for them... her brother, Ranulf Kaiser, has stealthy escaped prison. He only had tw...
Share this Book
http://booklikes.com/the-kaiser-affair-joseph-robert-lewis/book,10380016